SMS / Text Guide and Compliance
The SMS/Text Marketing Guidebook and ensure your SMS/Text marketing campaigns are legally compliant
An Overview of SMS Marketing
---
What is SMS Marketing?
SMS marketing (short message service marketing) is a technique that uses permission-based text messaging to spread promotional messages. To receive text message specials, new product updates or more information, customers are required to opt in. The terms SMS, texting and text messaging interchangeable.
---
Why SMS Marketing?
As a digital marketer, you've grown accustomed to lead generation channels such as email, banner ads, Google Adwords, and Facebook advertising campaigns. But mobile devices open up an entirely new channel for a business to reach a highly targeted, receptive audience: SMS Marketing, also known as Text Marketing. The use of text messaging is quickly emerging as one of the best and most reliable ways to successfully communicate with your customer.
You may ask yourself, "Why should we use SMS Marketing?" Our answer is simple: "Your customers are texting, so why aren't you?" Text message marketing gives you the perfect opportunity to connect with your customers on the devices they carry with them all day, every day. If that's not enough to get you to think about incorporating Text Marketing into your marketing mix, here are six more reasons to consider.
---
Benefits of SMS Marketing?
SMS Marketing: connecting brands and their customers in a whole new way.
1. It's Personal: Your customers have a very personal relationship with their phones. It's the way they engage with their friends and family. In fact, it's the very first thing most people reach for when they wake up. Once your brand is invited into this inner circle — caveat: you need permission — you'll have an immediate, more intimate way to have a one-to-one conversation with your customer.
2. It's Simple: SMS Marketing provides businesses with an uncomplicated way to connect with customers. It doesn't get much simpler than sending a text. For marketers, though, the trick is to be able to have an engaging chat when limited to around 160 characters at a time. Brief messages featuring incentive contests, coupon redemption, opt-in surveys, and polls help move the conversation along. Tip: Include your SMS number on your direct mail, email, website, and social media pages. This can be a proven way to entice consumers to opt-in to your SMS Marketing programs.
3. It's Highly Targeted: A consumer's relationship with their phone, combined with a permission-based relationship with your brand, is a powerful marketing tool. Surprisingly, the majority of consumers are actually receptive to interacting with businesses via text, just like they do with their family and friends. With their permission, this receptive audience can be a lucrative one. But don't overdo it. No one wants their phone swamped with unwanted texts. As a best practice, consider that more than 2–4 texts a month risks annoying your customer. If your offer is relevant and written specifically for the individual customer, you are sure to make a connection. You can also send a mass text — targeting a bigger audience — with a coupon or special offer they can't resist.
4. It Outperforms Other Channels: SMS Marketing boasts greater immediacy and attention than other digital marketing methods: from open rates to delivery, SMS topples email, Facebook, and push notification. When compared to other advertising categories, according to Mobile Marketer, SMS Marketing can lead to higher engagement rates and enviable ROI. While SMS outperforms other channels by leaps and bounds, it's even more effective when used in conjunction with voice, email, push notification, and other channels, as an integrated part of your digital and mobile marketing strategy.
5. It's Easy to Implement, Manage, and Track: With most SMS platforms, you can quickly and easily monitor and measure the performance of each SMS campaign. Because Text Marketing is permission-based, you're off to an excellent start: you know exactly who you are messaging and, because of that, you can capture highly specific data about your customers including demographics, interests, purchase history, and more! Proving marketing value is the holy grail for every marketer, and SMS Marketing, if properly integrated into your CRM, allows you to measure real-time performance of your text messaging campaigns — even mass texting can be tracked with proficiency.
Basic Knowledge
---
What is Text Messaging SPAM?
In the most generic form, spam is unwanted and/or unsolicited messages that are received by someone who has never elected to receive them. Spam takes many different forms. You're probably familiar with some of the most common, which include unwanted emails and phone calls.
Spam certainly occurs in the world of mobile as well but unlike email, SMS marketing laws are much more strict. There are some pretty hefty penalties and fines associated with text message spam. Some of the biggest individual lawsuits in history have reached $250 MM.
In addition to legal penalties, text message spam can severely damage your company's reputation and brand image. Spam will not be a problem for you and your business as long as you follow one basic rule: only market to people who have opted in.
---
Businesses and organizations in many different industries utilize SMS to communicate with customers and/or employees. If you work in a industry that has repeat customers or an organization that needs to reach mass amounts of people with updates and alerts, text messaging will be a powerful tool for you. To give you an ideas, here's examples of different industries that actively use our service.
Restaurants are using text message marketing

 

to send mobile coupons, dinner specials, new dish alerts, healthy eating tips, reservation reminders, and even staff communication alerts.


Nightclubs and bars are using it to send coupons similar to restaurants but target more towards their clientele. They also run "text 2 win" contests, offer free cover charges, and event reminders.


Salons and spas are using SMS to send out appointment reminders, special offers, mobile coupons, and to fill schedule gaps due to appointment cancellations.


Schools use mass text messaging

 

to send alerts, event reminders, cancellation notifications and more to parents and staff.


Churches are a huge consumer of bulk texting. Congregations all over the world use it as a tool for church-wide communication, event alerts/reminders, prayer requests, and daily devotionals.
These are just a few examples. The sky's the limit when it comes to leveraging SMS marketing.
Collecting Mobile Phone Numbers
---
WiFi Opt-In
One very unique feature is the ability for out platform to automatically collect numbers by users connecting to your WiFi network. When opting to use your WiFi they can also choose to be part of the SMS marketing your business offers. This is a great and automatic way to collect numbers.
---
Kiosk Opt-In
With Kiosk opt-in, customers enter their phone numbers into a form on a tablet in your restaurant and receive a confirmation via text message. This is a great way for your biggest fans to enjoy your marketing program!
---
Paper Opt-In
It's also possible to subscribe to a text marketing campaign by filling out a paper form, but since this way requires data entry, it's less popular than WiFi or Kiosk opt-in methods.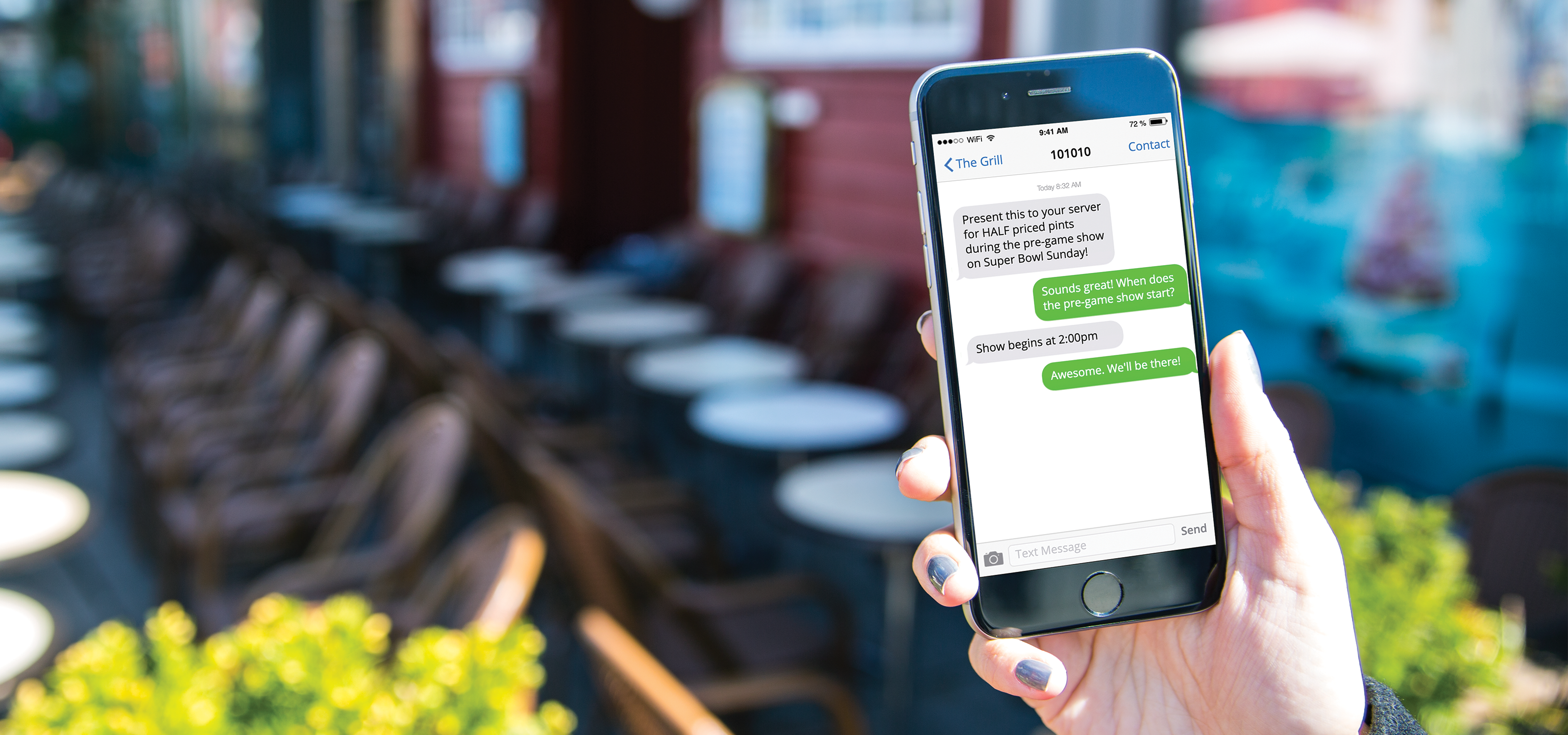 Sending Your First Campaign
---
Make Sure Each Campaign Creates Value

Before you sending out any SMS marketing campaigns, ask yourself, "Does this text create value for my subscribers?" If you're hesitant or unsure, don't send the campaign. Why? Put yourself in the shoes of the customer. Would you like to receive worthless texts from a business you love? Probably not. Furthermore, these invaluable text messages may become a nuisance and cause customers to unsubscribe. It could damage your brand image. The bottom line is, make sure every text you send creates real value for customers.
---
Pay Attention to Frequency
You must avoid sending your subscribers more text messages than what they expect. This can and will become annoying to your subscribers and encourage them to opt out. Think about how many texts per month you'd like to receive from your business and stick to that number. Don't ever go over the amount of touches per month that you've specified in your auto-reply. If you ever find yourself needing to break this rule, do so only on rare occasions ... and the offer you're sending out should be one heck of a deal.
---
Start Your Text Off With the Deal
SMS campaigns should be short and to the point. SMS stands for "Short Messaging System." You get 160 characters to get your message across, and that's it. Your customers are busy, and probably on the run. With those two things in mind, cut right to the chase. Put your coupon, promo, or other important message out there first. It doesn't need to be cluttered with other verbiage. Your customers will appreciate it. If you have leftover space in your text, then you can have some fun if that's the type of crowd you're communicating to.
---
Include a Direct Call to Action
When putting together your SMS marketing campaign, it's important to have a clear "call to action." A call to action is a request or instruction telling customers to do something. For example, one of the most popular is "show this text." If you owned a restaurant, your text might include "Show this text to get your FREE appetizer!" This lets your customer know what the next move is. It gives them a push in the right direction.
---
SMS Marketing Campaign Examples
There are different ways that you can engineer SMS marketing campaigns to be successful. Some techniques will be more effective than others. A lot will depend on your audience and the type of industry you're in. Here are some generic campaign ideas.
Save More

 

- "Show this text for 50% off any entree with the purchase of one at full price! Deal expires 2/24/19."
Spend More

 

- "Show this text for a $10 gift card when you spend $50 or more on Christmas gift cards this year! Deal expires 12/25/19."
Buy More

 

- "Show this text for $5 off the salad bar when you purchase a featured lunch special. Expires 2/27/19."
Get More

 

- "Show this text for a free ice cream cone with the purchase of 2 others. Expires 2/27/19."
---
Example Text - 99 Characters
Show this text for 50% off any entree with the purchase of one at full price! Deal expires 2/24.
Compliance
---
Express Written Consent
This is the most important aspect of compliance. The TCPA requires that you get "express written consent" from your recipients before you add them to your text marketing campaigns. Customers can express consent and opt in to your program by texting in a keyword, submitting a form on your website, or filling out a paper form. Failure to get consent from recipients before sending them text market messages is a TCPA violation.
It's important to note that this written consent can't be buried in a pages-long consent form full of legalese. Consent must be clear and conspicuous, so the recipient knows what they're signing up for.
We handle much of the compliance with opt in and opt out procedure so you don't have to worry.
---
Confirmation
Once a subscriber opts in, they should receive a confirmation text containing relevant information about the program and important disclaimers. All of the information below should be contained in the confirmation message, though abbreviations are allowed.
Your identity
The business or organization's name should be in the confirmation text to prevent any possible confusion.

Message frequency
Include the approximate number of messages the customer should expect to receive in a given week or month. This will prevent any unexpected or intrusive texts.

Opt-out language
This information is critical. You must include the keyword a customer can use to unsubscribe from your text marketing list. This usually takes the form "Text STOP to stop."

Help language
If a customer is confused, they should be able to get help by texting the appropriate keyword (usually "HELP") to receive additional ways of contacting the business, such as an email address or a phone number.

Message and data rates
Even though unlimited texting is becoming more common, many users may not have unlimited texting or data, so you must inform your subscribers that these charges may be incurred.
Here is an example of your confirmation message:
Your Business Name promotions and offers! Msg&data rates may apply. 1msg/wk. Reply STOP to cancel.
---
This message can be placed in the welcome message area for both Kiosk and WiFi registration mode and may be customized to fit your needs. Ensure that this language is accurate. 1msg/wk is a great way to start and often you should not go beyond that frequency for large campaigns.
---
Use Common Language
Use SMS shorthand sparingly if at all. This is not a legal requirement. While it does save you precious characters in your text message, it can also look very unprofessional. You don't want your messages sounding like they were written by a teenager!
If you need to save characters by using shorthand, start with the most obvious words first and try to keep them to a minimum!
Remember keeping your language simple, clean and professional will yield the best results.
Send Your First Message in Minutes
Get everything you need to engage individually with customers, or text thousands at once. Sign up today!
---
Get Started